Senior Care Services
At Hudson Creek Alzheimer's Special Care Center we know the lifestyle needs of seniors in Bryan, TX are as varied and unique as the community members themselves. That's why we offer a variety of senior living options that enable our residents to live as independent a life as possible, while also keeping their well-being and comfort a top priority.
Hudson Creek Alzheimer's Special Care Center offers several different services, including Memory Care and Respite Care.
Memory Care: At the heart of our memory care program lies "Meaningful Moments®", a program designed specifically for family members with dementia, assisted living and Alzheimer care needs. We focus on honoring the life story of each individual resident, creating a touchstone for seniors struggling with dementia and other memory care issues.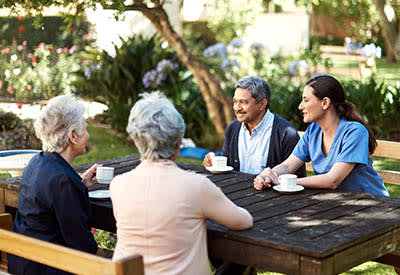 Honoring the Experience of Aging
Respite Care: Everyone needs a break sometimes and respite care is the perfect option for the caregiver who may be feeling overwhelmed or a senior on the road to recovery but not yet able to care for themselves in their own home. Let us help engage and comfort your loved one as they enjoy a spacious room, three home cooked meals per day and countless social experiences among their peers.
We offer a variety of floor plans to best suit your loved ones needs.