Senior Care Services
Maple Wood Alzheimer's Special Care Center offers both memory care and respite care for seniors in the Springfield, MO, area. With 66 beds and an on-site director of nursing, along with a full slate of occupational, physical and speech therapists, Maple Wood Alzheimer's Special Care Center has the emotional, physical and medical training to care for your loved one. We offer two different types of senior services for Springfield, MO, residents:
Memory Care: Our exclusive Meaningful Moments training enables our caring and highly-trained staff to learn of our memory care resident's life before it centered on their dementia needs. By taking these stories and creating daily touch points of experiences and items from that time, our staff is able to create meaning for residents struggling with Alzheimer's disease.
Respite Care: For those seniors in need of rehabilitation after an injury or caregivers who need a break from the demands of caring for a loved one, the respite services of Maple Wood Alzheimer's Special Care Center are beyond compare. Our team of therapists and nurses will work with each guest to put together an individual plan of care and help the healing process begin.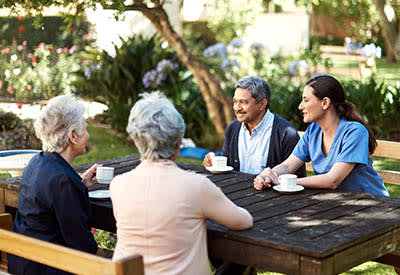 Honoring the Experience of Aging
Our senior care services include all of the comforts that come along with a well-lived life at Maple Wood Alzheimer's Special Care Center, including sumptuous meals in our dining room, a whole host of entertainment options, transportation services and freedom from daily chores such as yard work and housecleaning.
Visit Maple Wood Alzheimer's Special Care Center today or call and find out first-hand how our senior services can not only help, but enhance the life of your loved one.