Senior Care Services
Autumn Hills Alzheimer's Special Care Center offers services for seniors both with memory care and respite needs. Our 24-hour on-site nursing staff is highly trained in the needs of seniors with dementia and our therapist team can help short term assisted living residents to recover and heal quickly before heading back home. We offer:
Day Respite: Are you a caregiver for someone who has Alzheimer's and/or a form of Dementia, and are in need of some free time to run errands, attend your children's school function or just have an afternoon for yourself? If so, our Day Respite Program is the perfect option.
Autumn Hill's Day Respite is a life enriching, meaningful 8- hour program that is perfect for caretakers . Our program consists of 2 meals, 2 snacks, personal care, and our multi-dimensional program called Meaningful Moments.
Respite care: Along with access to our third party providers including home care, hospice services, respite care resident's will have spacious, light-filled rooms, three meals a day in our restaurant-style dining area and will enjoy all of Autumn Hills Alzheimer's Special Care Center's features, amenities and entertainment options.
Memory care: Our staff is trained in our exclusive Meaningful Moments® philosophy. This program helps residents with Alzheimer's feel more connected and brings meaning to each day.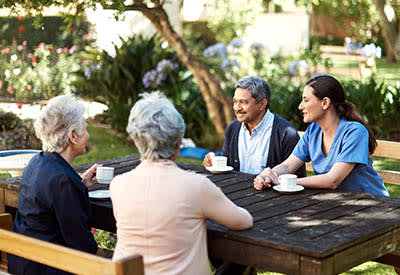 Honoring the Experience of Aging
In addition to the senior services, Autumn Hills Alzheimer's Special Care Center offers transportation to daily excursions, a whole host of entertainment options like movie nights and fitness classes and the ability to do away with the daily demands of cooking, cleaning, and yard work.
Call Autumn Hills Alzheimer's Special Care Center today and schedule a guided tour and free lunch for you and your family member!