Senior Care Services
Located in Urbandale, IA, Glen Oaks Alzheimer's Special Care Center is a residential option for those seeking elder care solutions. Glen Oaks offers a compassionate and comprehensive senior care design, providing specialized care for those with dementia. In addition, Glen Oaks offers other associated senior care services, including:
Alzheimer's/Dementia care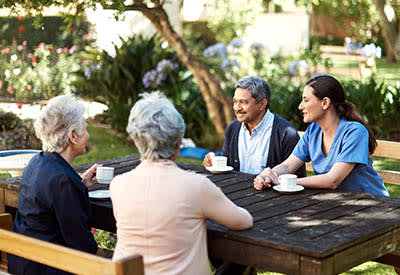 Honoring the Experience of Aging
The Glen Oaks Alzheimer's Special Care Center model incorporates each individual resident's unique life story into its care approach. Utilizing our distinctive Meaningful Moments® approach, the Glen Oaks Alzheimer's Special Care Center team provides a warm and meaningful specialized environment.
The partners in care relationship we encourage with resident families and friends is invaluable. Our unique approach benefits from this relationship as familiarity and appreciation of each resident's life experience and background provides a vital link in successful memory care management.
The national family of JEA Senior Living centers includes over 50 locations, with Glen Oaks Alzheimer's Special Care Center as one of the newest "siblings." Embracing the organization's mission to "honor the experience of aging," we are compassionately committed to the knowledgeable and comprehensive health treatment of our residents.