Senior Care Services
Located in Tucson, AZ, the Copper Canyon Alzheimer's Special Care Center is a residential option for those seeking elder care solutions. A member of the JEA Senior Living family of centers, Copper Canyon offers a compassionate design combining assisted living with dementia care. The Copper Canyon model incorporates each individual resident's unique life story into its memory care design. Utilizing our distinctive "Meaningful Moments®" approach, the Copper Canyon team provides a warm and meaningful assisted living environment.
Our modern and upscale Alzheimer's and dementia special care center is already recognized for bringing a true "partner in care" approach for memory care treatment to Southeastern Arizona. Family and friends are members of each resident's unique specialized team, ensuring an all-important link supported through personal experience and familiarity.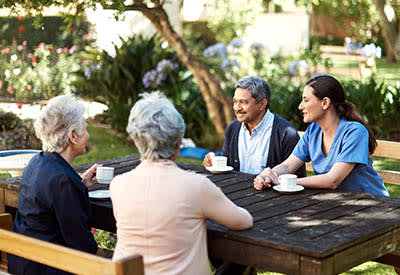 Honoring the Experience of Aging
Copper Canyon is a member of the JEA Senior Living family, comprised of dementia and memory care centers and programs stretching from the Pacific to the Great Lakes. Embracing the mission to "honor the experience of aging," we are compassionately committed to the trained and comprehensive health treatment of our residents.