Meaningful Moments®
We understand that caring for a loved one with Alzheimer's disease or a related memory loss is a difficult and challenging experience. We also understand that the decision to place a loved one in the care of others is perhaps the most difficult decision you will ever make. Our Special Care Centers are designed to help ease your mind.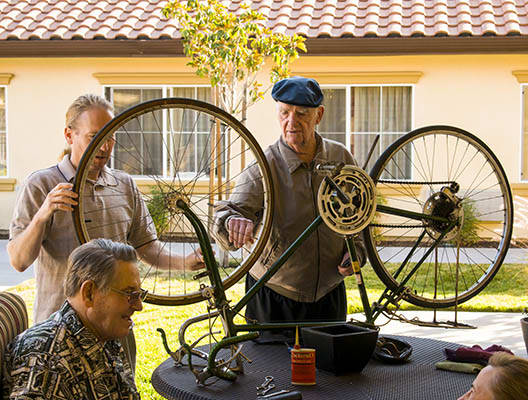 Our Program Philosophy
Our philosophy of care is focused on the knowledge that to provide the care and support our residents need, we must know and understand dementia and the ever changing impact it has on their ability to understand their world. We must also know each resident's unique life story in order to create moments that are meaningful to them personally. We strive to provide a warm, caring and supportive environment where our residents can experience daily routines and familiar faces. Our programs are designed to add meaning and value to their lives and to help them feel comfortable in their environment. Throughout their stay with us, our residents' health and well-being will be a shared concern among their family, friends and our knowledgeable staff. As partners in care, we will work together to build a plan that supports their independence and provides them with the sense of belonging that is so important to all of us.
SMILE
SMILE is a software solution that allows our communities to develop a well-rounded program that meets the dimensions of wellness, ensuring we meet their physical, intellectual, spiritual, purposeful, emotional and social needs. SMILE helps in tracking resident participation, allowing us to tailor programs based upon personal preference and life story. Finally, Smile helps staff engage and communicate with family members. It is our good news network and allows us to capture the meaningful moments that occur in our communities and share with families.
Eversound
Eversound is a wireless headphone system designed for older adults with both auditory and cognitive changes. The headphones help them hear perfectly at group events and activities allowing for ongoing engagement, human connection and meaningful moments.